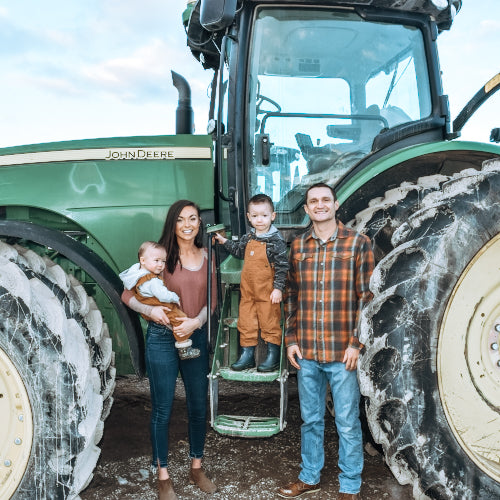 The start of our family farm really started during Ladd and I's first harvest together. We had dated all spring and summer long at college. As fall approached harvest started. It was my last semester of the Bachelors of Nursing program at Brigham Young University of Idaho in Rexburg. Ladd had the semester off and moved back to Aberdeen to work harvest. I learned quickly that this time of year, as a fourth generation farmer, he was usually stuck in a tractor. When I did not have class I would make the 80 mile drive to see him. Sometimes when the weather caused harvest to pause for the day he would come and surprise me.
At that time I was driving a 2003 suburban, the old family car my sisters and I drove all through high school and college. I would drive to whatever field they were harvesting and rumble down the bumpy dirt road to a place Ladd could pick me up with the tractor. As he would climb out of the digger I would think, "Has a man ever looked better in dirt covered cloths?"
I cherished this time in the bucket seat next to him. It was a time to talk and get to know each other on a deeper level. We talked about our dreams and plans. We shared stories from our pasts and our hopes for the future. We laughed over lunch, which was usually Mexican food taken to go from our local restaurant.
This one on one time prepared me for one vital thing in marriage, communication. Communication is key in a successful relationship. Openly talking about points of conflicts right when the problem arises prevents it from snowballing into a huge fight. This was not natural for me. I have always hated conflict and would avoid it like the plague. As our relationship progressed I learn to say things like, "that hurts me when you say…" or "what did you mean when you…"
Forgiveness is also key. No one is perfect. You make mistakes. Isn't your spouse aloud to be human too? Do not hold past mistakes against the ones you love. It will only hurt you and kill your relationship.
The farm life was mostly new to me. Being out in the tractor all day I had a lot of opportunities to get out and get my hands dirty. I got to learn all about what happened during harvest. From this time on the farm I got a glimpse of exactly what I was getting into when I married Ladd.  During beet harvest one of the diggers got jammed. Ladd had me crawl in the middle of it with him to clear the jam. Then we came out to attach a new part. As I was holding a part in place with a wrench, a lady truck driver drove past and said, "Finally! This it was these machines have been needing! A woman's touch!" Working hard side by side, built our relationship on a good solid foundation. Life is hard but we know that we make a good team. With a little bit of hard work we can dig our way through anything.
These days my husband is not always stuck in a tractor for all of harvest, but we still do get a lot of opportunities to sit side by side in a tractor. Six harvests together later we still get to date in a tractor. Now we have two little boys to tag along. They love their time with dad on the farm.
I am by no means a relationship expert. We definitely have had our highs and lows through the years. But I do know that no matter where you are at in your relationship, it is important to have one on one time where you can take the time to communicate. A time where you can talk about your hopes and your dreams, your struggles and your disappointments, and your excitements and your accomplishments.
Every love story is different. Every relationship is unique. Ours is not perfect but I am grateful for the foundation we built in a tractor. We continue to work hard side by side for our present life and our future together. Our hopes and our dreams are coming true everyday because we are together.
With love from our farm,
Zoey